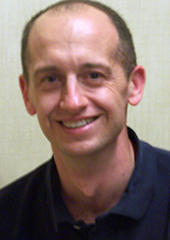 Jason Barna
Design Consultant
Jason has been designing custom kitchens and bathrooms for over 19 years. With a long history in the kitchen and bath industry that began in his family's custom cabinet shop, he learned every aspect of the business…from building cabinets, doing installation, and eventually designing and selling. This unique background gives Jason the ability to look at projects from a different perspective than many other designers.
With every design he does, he tries to think of how it translates into the field. This ensures a smooth and trouble-free job for the installers. He believes that when talking with clients, everyone and every situation is unique. The best thing you can do is listen to what they are telling you, enabling you to identify both their wants and needs. Jason excels at transforming the clients' vision into a job that exceeds expectations.
Jason has designed several spaces for regional design show houses and his work has been featured in publications such as DesignNJ.
When Jason is not at work, he enjoys running, surfing and playing hockey. But, his favorite pastime is spending time with his wife and two children.
Let's start planning your project!
If you are interested in working together, send me an inquiry and I will get back to you as soon as I can!