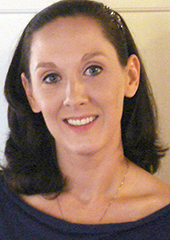 Kristen Furtney
CLS, Allied ASID Sales/Design Consultant
Kristen has over a decade of experience in residential design and project management specializing in kitchen & bathroom design. Kristen brings an Associate's degree in Interior Design & Business Management, certification by The American Lighting Association (ALA) as a certified lighting specialist along with multiple design awards from the National Association of Home Builders (NHAB). Kristen is also an Allied Member of the American Society of Interior Designers (ASID).
Kristen designs kitchens, bathrooms and other beautiful spaces that meet her clients' requirements by studying, listening and evaluating each client and their needs while also paying close attention to their budgets. Those requirements consist of not only being functional and up to building code expectations but also reflect her ability to provide a comfortable & efficient space. This, combined with her depth of knowledge of textures, colors, lighting, electrical & plumbing systems, completes her design expertise.
Kristen feels it is important to fully educate her clients of the process and the qualities of the available materials while keeping abreast with the latest trends and incorporating them creatively in her designs for an overall fabulous experience.
What Our Customers are Saying
Hi Kristen,
I have been meaning to reach out to you and thank you for designing our kitchen – it came out really great!  Something that I never imagined my kitchen would look like – thank you for your expertise, guidance and great ideas.
I hope you are feeling well and enjoying the summer – it is flying by, like it always does!
Thank you,
"Thank you, thank you, thank you.
Kristen!  I LOVE MY KITCHEN!  I can't tell you how many compliments I've received about it all!  The island and butler's pantry are definitely the favorites!  Thank you for taking care of all the little details and having such a great team of people working with you!  For all the chaos of construction, it was a great experience working with all of you.  I point people in your direction every chance I get!  Thank you!!"
Hi Kristen,
Happy New Year!
Kitchen is almost done !  I just had to write and thank you for doing such an wonderful job designing my kitchen!  You gave me everything I asked for and it looks absolutely amazing!!!!  I am so glad we went with Ron also, he has done a fantastic job and he will be doing more work for us – we will be starting on the outside as soon as he can get started (also when the weather warms up!  LOL).
I can't wait for you to come by and see it!  Hopefully it will be complete in another week or so.
Thank you so much again! And please give my name as a reference – although you're so good at what you do – you probably don't need any!!  LOL
See you soon!
Sincerely,
Dede
Hello Kristen! I love, love, love my kitchen! I want you to know I totally love our kitchen. There isn't one thing I would change. The backsplash is beautiful…
I will send you some pictures of just how beautiful my kitchen is. I could not have done it without your thoughtful support and sincere guidance. I know we mentioned this before, but it took us 5 tries/interviews local, south and west of Boston until we landed with wonderful you in York, Maine. You are a fabulous designer and Eldredge is lucky to have such talent on their staff. Thank you back in February 2015 for taking on our project and for your patience and subtle reminders of to do. Our kitchen is a dream come true.
During the time of building a new home, surprises and delays are known to be normal and extremely frustrating. Designing a complete kitchen in an open space concept is a very challenging experience. Coordinating 4 bathrooms' cabinetry and countertops with other bathroom details and colors is very time-consuming.
We were most fortunate and extremely pleased to have had Kristen design, plan and manage these projects for our beautiful new home. She was very quick to understand our objectives, created options and worked tirelessly in order to meet very tight deadlines. Throughout this demanding period of working 7 projects for our new home her patience, wit and quick thinking made the process smooth.
We are most confident to recommend Kristen Furtney without any reservations. She is an extremely talented designer, resourceful and easy to work with. She will make your vision a reality.
I have been working with Kristen Furtney for a few months now and am extremely pleased with the quality of service she has given my project. Ms. Furtney has consistently impressed me with her knowledge and her attention to detail. We have remodeled several rooms in our motel and she has kept on top of all supply and material issues, has coordinated with contractors and has foreseen upcoming issues that could have caused delays.
I have worked with many design professionals over the years and by far, my best experience has been with Ms. Furtney. I would like you to know that she has done an excellent job. I look forward to working with her again on future projects for my two motels here in Ogunquit.
Let's start planning your project!
If you are interested in working together, send me an inquiry and I will get back to you as soon as I can!