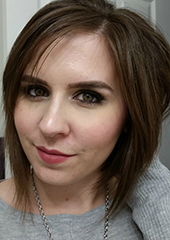 Lauren Angers
Operations Manager
Meet Operations Manager, Lauren Angers
Lauren is a retired chef from Glendale, Arizona whose first love was Architecture. As one of our Design Assistants, whose duties go far beyond assisting, Lauren is in charge of keeping the Showroom up to date, samples in order, and designers up to date on the latest and greatest from each of our vendors among many other duties.
Working at the Atlantic Design Center brings both of her loves (cooking and design) into one place, giving her a unique view of kitchens to help the designers create their perfect designs. In addition, Lauren gained a love for social media after starting her own blog and YouTube channel which gave her the knowledge and experience to take charge of the Eldredge Lumber Facebook page and update the Eldredge Lumber website whenever necessary.
Have questions? Let me know how I can help.