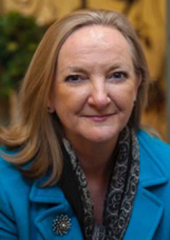 Mary Kavanagh
Bath & Flooring Manager
Mary is our consultant specializing in tile design and sales. Irish born, she holds honors degrees in both Hotel Mgt. & PR. Years living in Switzerland and the UK fueled her interest in hotel architecture, planning and design. Exposure to both contemporary & classic resorts and properties are reflected in her European sense of style.
Her love of art & architecture brought her to Endicott College in Beverly, MA where she pursued her career in Interior Design. She has extensive residential experience working in soft furnishings, drapes & wall coverings, in addition to the bath and tile design she did in Boston and Acton, MA.
Mary is now settled in York, Maine with her husband & children. She enjoys sewing & gardening and "dabbles in paint." Combining her passion for art & color with the skills of drafting & interior design, Mary creates lasting impressions for her clients in tile and stone.
What Our Customers are Saying
Hi Mary,
Wanted to thank you so much for all of your help in getting our tile project designed and executed. Bob did an awesome job with a only a little help from me. He is meticulous and we are very pleased with the results.
Hope you are safe and well.
Thank you so much Mary – I knew when we decided to go with Atlantic it was the right choice. We know we are not a big job for Atlantic, but the fact that you are doing this absolutely says I chose the best, most professional company in this area who actually cares about the customer.
In the business I have, and I am sure you are well aware of the fact, every customer will tell at least 10 people about their experience with a company, whether good or bad. And that's where good leads come from. I have easily told that many about our excellent experience with you and Kevin- even before this situation. And I will tell a lot more than that about your genuine interest to accommodate a customer's needs the best you can and how they can trust Atlantic, not only to do a good job, but to work out and finalize any situation.
I can't imagine Atlantic not getting interest from people I have already talked to. I would have no hesitation recommending Atlantic or Eldredge to anyone who brings up tile (or kitchen or window replacement etc) .
You, Mary are an exceptional salesperson with a terrific install team – and that speaks volumes for the owners of your company.
It is a pleasure doing business with you and Kevin and John (who is one of the best, professional to the highest degree, installers I have seen).
Let's start planning your project!
If you are interested in working together, send me an inquiry and I will get back to you as soon as I can!